ESG Policy
SRM believes that it is indispensable as a real estate management company to include environmental, social and governance (ESG) factors in investment decisions and management process for maximization of unitholder value over the medium to long term, and thus establishes the following basic policies on ESG and puts them into practice.
Climate Change Measures
SRM shall contribute to creating a carbon-neutral society through efforts on efficient use of energy and reduction of energy consumption and greenhouse gas emissions at real estate under management. Furthermore, recognizing the importance of renewable energies, SRM shall consider possible utilization of such.
Efforts on Reducing Environmental Burden
Recognizing environmental burden at real estate under management, including water consumption and waste discharge, SRM shall continuously make efforts to reduce such.
Consideration for Natural Environment
With sufficient consideration for protection of natural ecosystem and other natural environment as well as for maintenance/conservation of biodiversity, SRM shall promote greener buildings and communities.
Efforts on Improving Health and Comfort
SRM shall strive to improve real estate value by raising tenant satisfaction through assessment of needs and appropriate implementation of measures for enhancing health/comfort of tenants and local communities.
Efforts on Enhancing Resilience
SRM shall strive to improve real estate value by retaining and gaining good tenants through enhancement of resilience of real estate under management against climate change and disasters. In addition, SRM aims for real estate management that can respond flexibly to changes in social structure such as urbanization and work sharing.
Collaboration with Stakeholders
SRM shall establish a good relationship with tenants, property management companies, local communities and other stakeholders involved in real estate under management and collaborate to promote ESG.
Efforts for SRM's Employees
SRM shall strive to develop employees' skills by providing specialized training, support for acquisition of qualifications and such based on its human resources strategy. In addition, SRM shall work to create a favorable working environment to allow diverse employees to work comfortably in good health.
Compliance and Strengthening of Governance
In order to protect investors and ensure SRM's proper operations, SRM shall not only abide by laws and regulations, but also strive to prevent corruption, prevent conflicts of interest, manage information properly, and value human rights and diversity.
Disclosure of ESG Information and Utilization of Outside Evaluation
SRM shall make efforts to implement appropriate and transparent disclosure of ESG-related information for its stakeholders, and consider utilization of outside evaluation and third-party certification.
Specific Efforts on Environment
■Case examples
Measures for conservation of energy
Adoption of high-performance window glass
For reduction of heat load, we have adopted high-performance window glass to curb solar radiation in offices.
Greening of premises, rooftops and walls, etc
Trees and plants are planted within the premises, on rooftops and walls to ease heat-island effect.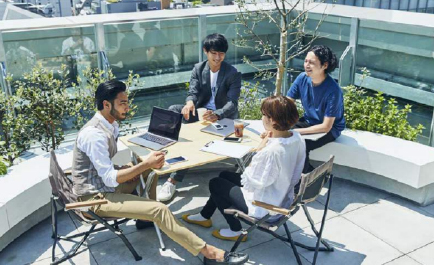 Utilization of renewable energies
Renewable energy from solar power generation is used at some of owned buildings to reduce CO2.
Promotion of LED lighting
Effective utilization of water resources
"We make effective use of water resources by purifying domestic wastewater, collecting and filtering roof rainwater, and using it for toilets and watering plants. This reduces the use of clean water by 40% or more compared with when rainwater or wastewater is not reused."
Promotion of water-saving work
Prevention of contamination
For property acquisitions, we properly conduct a survey on the land's history based on related laws and regulations. Furthermore, we implement soil contamination investigation and decontamination measures, as necessary.
Complying with laws and regulations related to asbestos, we notify the government upon renovation and other work and adequately take measures to prevent scattering of asbestos and such. At the same time, we promote use of building materials (parts, material, glue, paint, etc.) low in formaldehyde to reduce formaldehyde and other causative agents of sick building syndrome.
Specific Efforts on Society
Efforts for society
Efforts on ESG with tenants
Consideration for safety, comfort and health of users
"In order to ensure safe use of buildings, we confirm the legal compliance status upon property acquisition and have an engineering team check on the status of legal compliance and safety of properties on a regular basis after acquisition.
Furthermore, with an aim to create worker-friendly environments for users, we are working to give more consideration to the health of users and enhance their comfort by setting up a break room, etc. at some properties as well as periodically inspecting air-conditioning systems.
Disaster response and safety of buildings
Efforts on building resilience after disasters, etc.
"We regularly exchange disaster-related information and conduct disaster drills in order to secure business continuity and early recovery of normal operations upon disasters as well as to prevent spread of damages upon disasters.
In addition, we have installed off-grid power generation facilities at some properties to be used in case of power outage."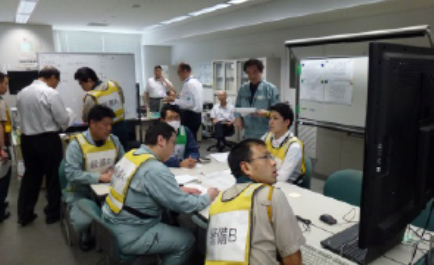 Efforts on contributing to local communities
Participation in Takebashi Ekiden (relay marathon)
Bond with local communities
We are working to increase communication with tenants and local residents by holding cleanup campaigns and other area events with the cooperation of property managers, building management companies and tenants.
Local contribution activities
Participation in cleanup campaigns

Participation in water sprinkling

Announcement to tenants of nearby day care centers
Coexistence with nature by setting up a bird house
Efforts for employees
(1) Human resources development
Support for acquisition of professional qualifications: Bearing the costs of training and examinations for acquiring qualifications as well as the costs of maintaining them
Training programs (compliance training, training by job class)
Number of employees who acquired qualifications
Number of qualification holders
Real estate notary
14
Administrative scrivener
4
Real estate notary qualification registrant
33
Certified internal auditor
1
Employees who passed written examination for real estate notary
14
Securities analyst
1
ARES (The Association for Real Estate Securitization) Certified Master
30
Class-1 securities sales representative
6
Real estate consulting master
9
Chief of Money Lending Operations
4
Certified Building Administrator
6
Affiliated Financial Planner (AFP/FP) (2nd grade)
1
Real estate appraiser
7
MBA
1
Registered architect of the first class
2
The Official Business Skills Test in Bookkeeping (Grade 2)
8
Licensed strata management consultant
2
The Japan Business Law Examination (Grade 2)
2
Licensed Representative of Condominium Management Company
2
Fire prevention manager
11
Urban renewal planner
1
Disaster prevention manager
7
(2) Working environment
Introduction of telework
Flexibility through introduction of flexible working hours system
Supporting employees' mental health by setting up a consultation desk
Improving operational efficiency by setting up breakrooms
(3) Benefits programs
Enriching employees' leisure time through a tie-up with a benefits service providing company
Promoting employees' health by subsidizing the expenses of a complete medical checkup
Holiday/leave programs other than paid holidays (Leave program for nursing sick children)
Promoting communication among employees through subsidy program for recreational activities
Awarding long-serving employees
Congratulatory or condolence payments
Supporting employees' post-retirement life by introducing the corporate-defined contribution pension plan
(4) Personnel system
Setting a viable target and managing the target (100% interview rate with the evaluator)
Introduction of fair evaluation system
(5) Other
Introduction of Casual Every Day (No tie, no jacket throughout the year) program
Promotion of paperless office by installing Wi-Fi network which enables employees to carry notebook computers
Specific Efforts on Governance
Decision-Making Process (Example)
Rotation Rule
Legal Compliance System
Outline
SRM protects investors and ensures the soundness of its business by establishing internal rules on compliance and developing a legal compliance system for the purpose of conducting business in accordance with laws and regulations, etc.
Specifically, SRM establishes the Compliance Department as the department in charge of compliance matters for SRM to build appropriate business operation systems and appoints a person responsible for managing compliance matters as the Head of Compliance to ensure the effectiveness of internal control functions related to other departments of SRM. Furthermore, by establishing and operating the Compliance & Risk Management Committee, SRM ensures the establishment of a multi-layered legal compliance system.
Board of Directors
The Board of Directors of SRM will seek thorough implementation of compliance as the organ ultimately responsible for carrying out the business of SRM, receive reports on matters approved by the Compliance & Risk Management Committee, etc., and adopt resolutions on important compliance matters of SRM.
Compliance & Risk Management Committee
The Compliance & Risk Management Committee deliberates on and grants approval (including deliberation and approval concerning transactions with interested parties) for important compliance matters in coordination with the Board of Directors, the Head of Compliance, and the Compliance Department. A legal counsel who has no conflicts of interest with SRM is appointed as an external committee member.
Head of Compliance
As the person responsible for managing the compliance matters of SRM, the Head of Compliance will seek to establish a compliance system in SRM and foster an awareness of legal compliance within SRM.
Compliance Department
The Compliance Department is in charge of the compliance matters of SRM and develops and implements compliance programs, etc.
Internal compliance systems
The Compliance Department shall establish a system under which officers, employees, and other staff members who come to know of acts related to business operations in SRM that violate laws and regulations, etc. or acts highly suspected of violating laws and regulations, etc. can immediately report these acts.
The Head of Compliance shall plan and implement internal training in each department or division or for all officers and employees of SRM as appropriate to enhance the understanding and knowledge of legal compliance within SRM.
The Head of Compliance shall conduct separate training as needed for officers or employees who have committed a material breach of compliance.
Speak-Up System
In addition to reporting routes through internal reporting lines for compliance-based problems, SRM has introduced the Speak-Up System as a system that provides officers and employees who come to know about these problems with a means for contacting SRM's Compliance & Risk Management Committee, external legal counsel, or the Compliance Committee of Sumitomo Corporation directly. These reports are processed appropriately under the direction and supervision of SRM's Compliance & Risk Management Committee.
Independent monitoring
The Internal Audit Department of SRM conducts audits as a governance and assessment function concerning SRM's management systems, business execution, financial soundness, and other matters, including its compliance system and activities. In addition, SRM undergoes group audits conducted by the Internal Audit Department of Sumitomo Corporation and audits by an audit corporation (voluntary audit) in accordance with the Companies Act.
Using reports, proposals, etc. made as a result of these audits to recognize its challenges in an objective manner, SRM shall seek to improve and enhance its operating structure.
Risk Management System
Establishment of and compliance with asset management guidelines and risk management rules
Establishment of legal compliance system